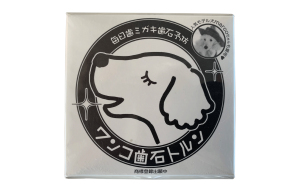 Bisoshi Cleaning Sheet for Dogs
[Country of Origin]Japan
Bisoshi Cleaning Sheet for Dogs
Dental Care Sheet for Dogs
For daily tooth brushing, eye and ear care.
For your dog's health
It is important to keep your cat/dog's body clean.
The cleaning sheets are the easy way to take care of your cat/dog's teeth.
It can also be used for daily dental care.
Let's make it a habit to brush your cat/dog's teeth.
How to Use
Take out one sheet of Bisoshi paper at a time. Moisten it with plenty of water.
1) For tooth care
Wrap the paper around your finger and massage the teeth and gums.
If they are not accustomed to brushing their teeth, start by brushing once or twice a week and gradually increase the frequency to get them used to it. It is more effective to brush after meals.
2) For other care
It can be used for wiping the body, cleaning paws, mouth, eyes, and ears.
Bisoshi paper is an environment- and pet-friendly care paper made of natural mineral (zeolite) embedded in Japanese paper. (No fluorescent dye is used).