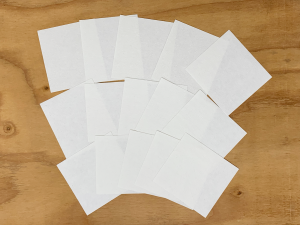 [Material]Japanese paper,Zeolite,Tourmaline
[Product Size (mm) (Approx.)]79mm×85mm
[Country of Origin]Japan
[Cautions for Use]You may see uneven adherence on the surface of Bisoshi, but this is the natural mineral zeolite and natural plant fibers that have been embedded into the product. It does not affect your skin, so please use it as is. If you are using summer makeup, use Bisoshi after cleansing cream. After use on the skins, Bisoshi can be used to clean bathroom mirrors, kitchen areas, and more.
Bisoshi
Bisoshi is a skin care paper invented by Ms. Fushimi Nozaki, a Japanese paper craft artist living in Yasugi City, Shimane Prefecture, and the representative of Fushimi Washi Art Laboratory Corporation. The Izumo Washi (Japanese paper) used in this product contains finely ground (0.0003 to 0.0005μ) natural mineral zeolite and tourmaline. The Washi is made of two types of long fibers carefully extracted by hand and intertwined in a mesh-like pattern. When the Washi is moistened, it becomes suitable for removing sebum, dirt, dandruff, fine dust and dirt, and makeup residue that cannot be removed by facial cleansing. Since it uses only natural ingredients without any chemicals, it is as gentle as possible on the environment and your skin.